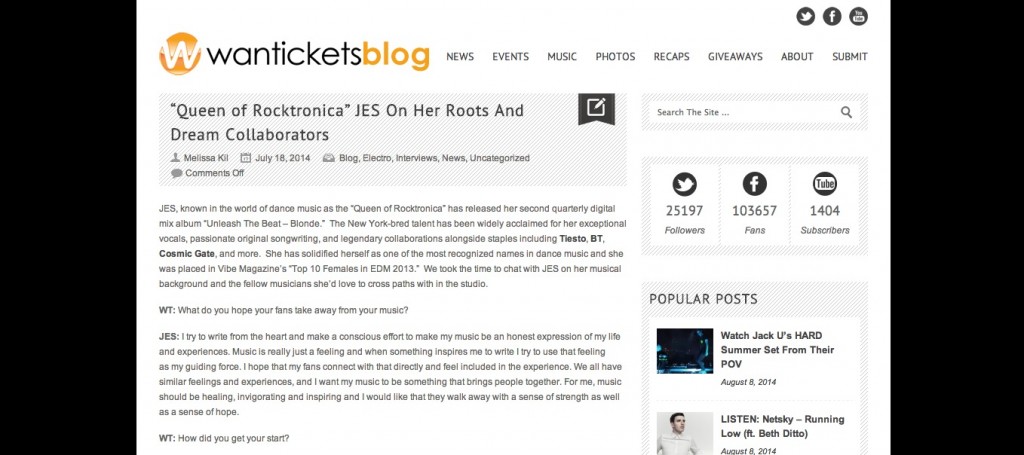 WANT TICKETS: "Queen of Rocktronica" JES On Her Roots And Dream Collaborators

JES, known in the world of dance music as the "Queen of Rocktronica" has released her second quarterly digital mix album "Unleash The Beat – Blonde."  The New York-bred talent has been widely acclaimed for her exceptional vocals, passionate original songwriting, and legendary collaborations alongside staples including Tiesto, BT,Cosmic Gate, and more.  She has solidified herself as one of the most recognized names in dance music and she was placed in Vibe Magazine's "Top 10 Females in EDM 2013."  We took the time to chat with JES on her musical background and the fellow musicians she'd love to cross paths with in the studio.
WT: What do you hope your fans take away from your music?
JES: I try to write from the heart and make a conscious effort to make my music be an honest expression of my life and experiences. Music is really just a feeling and when something inspires me to write I try to use that feeling as my guiding force. I hope that my fans connect with that directly and feel included in the experience. We all have similar feelings and experiences, and I want my music to be something that brings people together. For me, music should be healing, invigorating and inspiring and I would like that they walk away with a sense of strength as well as a sense of hope.