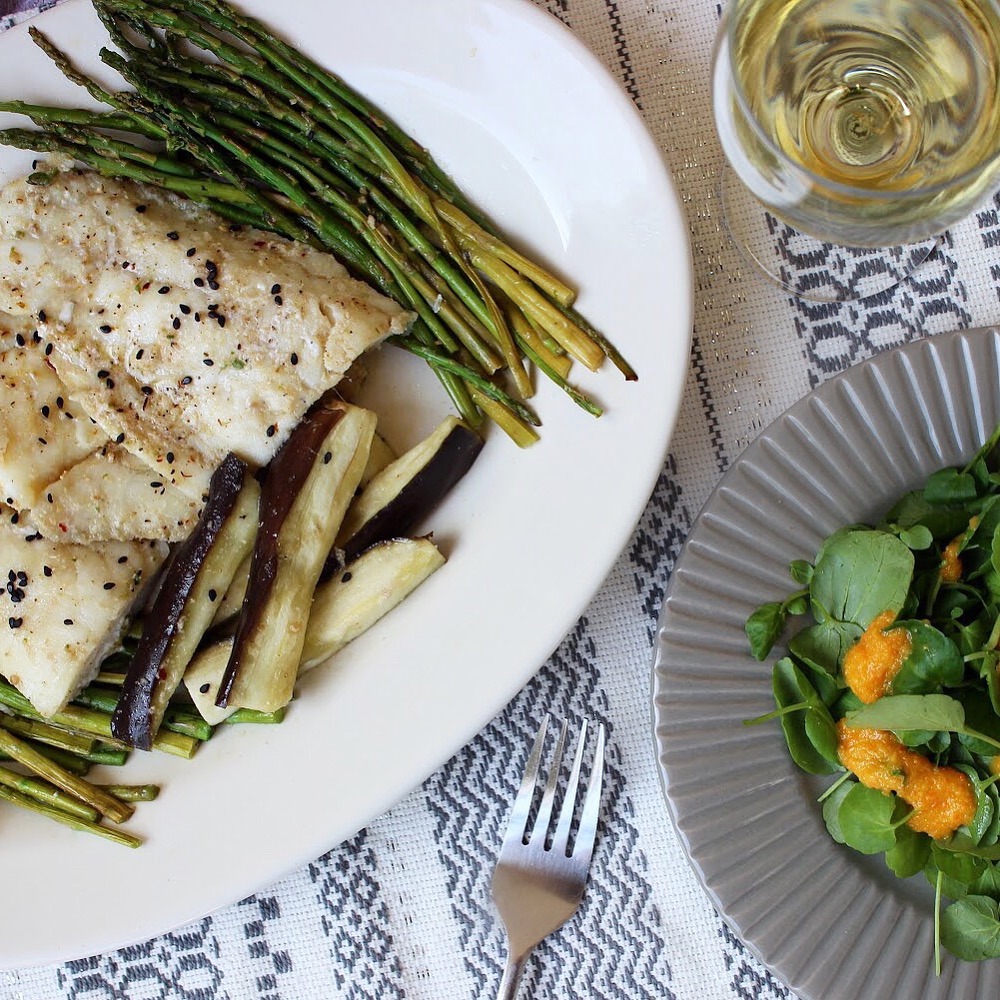 BAKED MISO COD WITH WATERCRESS AND SESAME CARROT DRESSING
BAKED MISO COD WITH WATERCRESS AND SESAME CARROT DRESSING
Ingredients:
-1 pound cod
-¼ cup water
-¼ cup miso paste
-1 teaspoon tamari sauce
-4 tablespoons MIrin
-2 tablespoons coconut oil
-½ teaspoon sesame oil
-1 bunch thin asparagus end cut
-½ eggplant sliced into thin strips
-Hımlayan salt to taste
-Black pepper to taste
-1 teaspoon toasted sesame seeds
Instructions:
1) Preheat oven to 400 degrees. In a saucepan combine water, miso paste, mirin, tamari sauce, and bring to a boil. Stir until the miso dissolves.
2) Lightly coat a ceramic dish with a teaspoon coconut oil. Arrange the thin asparagus and eggplant sticks on the sides of the ceramic dish, add a pinch of pink salt and a pinch of black pepper and bake for 7 min. Set aside.
3) Cut the cod into 4 pieces pat dry and place in the middle of the ceramic dish and coat with the Miso paste. Bake in the oven for about 12 minutes. Check the fish is light and flakey.
WATERCRESS SALAD WITH SESAME CARROT DRESSING
-½ cup White miso
-6 tablespoons grapeseed oil
-¼ cup grated peeled carrot
-2 tablespoons finely grated peeled ginger
-2 tablespoons unseasoned rice vinegar
-4 teaspoons toasted sesame seeds
-2 teaspoons toasted sesame oil
-2 teaspoons honey
-2 tablespoons Lime juice
-handfuls of watercress salad
Instructions:
1) Put all ingredients into a mini blender and blend until smooth. Serve on watercress salad.