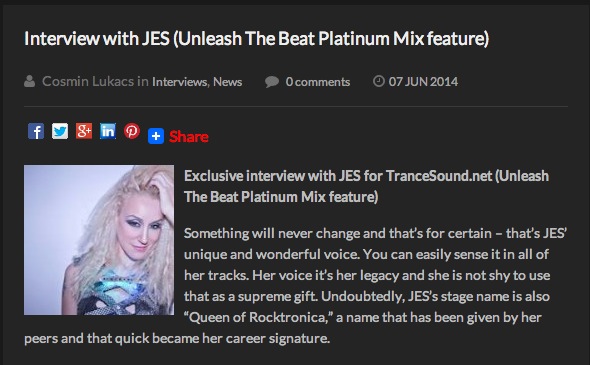 Exclusive interview with JES for TranceSound.net (Unleash The Beat Platinum Mix feature)
Something will never change and that's for certain – that's JES' unique and wonderful voice. You can easily sense it in all of her tracks. Her voice it's her legacy and she is not shy to use that as a supreme gift. Undoubtedly, JES's stage name is also "Queen of Rocktronica," a name that has been given by her peers and that quick became her career signature.
1. Hi Jes, nice having you for your second interview with TranceSound.net. How are you ?
JES: I'm very honored to be here. Thank you so much for your support and having me once again on TranceSound.net. I am feeling great right now. I'm working in the studio on some new tunes and rehearsing for some upcoming shows here in the US. Summer has finally arrived in Los Angeles so I'm enjoying the beautiful weather. I have even managed to escape the studio a couple times to get in some much needed beach time.
moncler sale coats,ralph lauren italia outlet,louis vuitton sale ,michael kors factory outlet,north face outlet uk