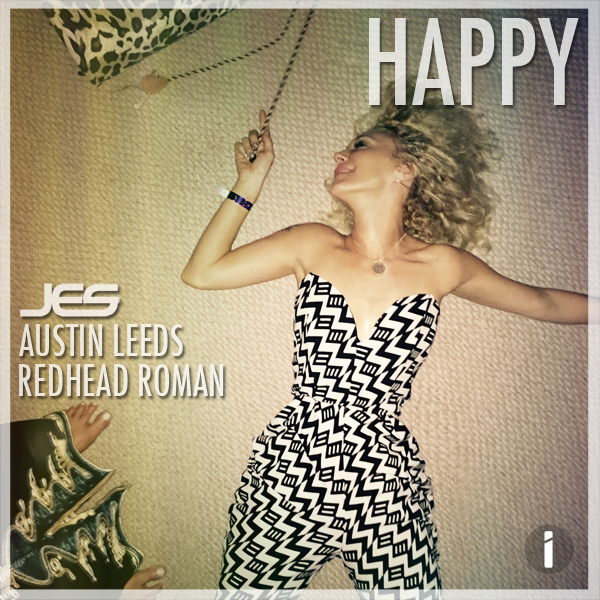 "Happiness is such a difficult thing to pin down. I think that's why we all struggle with it so much. For a long time I had wanted to write something about it because so many songs deal with heartbreak and sadness. When I heard the track that Austin and Roman had put together it was an instant inspiration for me. It had that carefree sense of security about it that epitomizes how you feel when you're happy.
At times we all confuse happiness with pleasure and I have come to understand that for me at least, too much pleasure doesn't always bring me happiness. It comes from a deeper place of helping someone else, so make someone happy today!" – JES
We all know that happy people lead better lives, are more productive and eat more Kale. However, happiness can all too often seem to elude us.
JES returns with the stunningly original "Happy, " the sophomore release from her own label Intonenation Records.
Joining forces with Floridan / Czech beat architects Austin Leeds and Redhead Roman, JES serves up "Happy" with a track that puts the most mysterious of all emotions under the spotlight. Growing from an emotive breakdown into a resonating chorus of ecstatic vocals and exploding drums, "Happy" takes the established formula of progressive and spins it like a bottle. Driven by a captivating vocal performance, JES' passion is matched at every pace by an equally infectious drop. "Happy" is a joyful cocktail of uplifting melodies with a dark undercurrent of gritty bass and beats that will have you dancing like no one is watching.
If you are still searching for happiness then join JES, Austin and Roman on the road to enlightenment. Who knew getting "Happy" could be so much fun ?
To illustrate the bubbly message of "Happy", JES has included a not-to-be-missed music video featuring the joyous escapades of adorable French Bulldog Joey. Directed and filmed by Eric Monjoin, and edited by Richard Robson, with additional footage filmed by Joey himself and additional Pups and Happiness brought to you by Bark'N'Borrow, "Happy" chronicles a day in the life of the jubilant canine on the beach, at the park, and just generally relishing everything that comes his way.
Dogs have always been one of my favorite sources of happiness in life. They're unconditional love and commitment is always an inspiration to me. I wanted to create a video that reflected a dogs happiest moments and captured that unreserved joy that they seem to be so much more comfortable with than we are. Director Eric Monjoin has done an incredible job of capturing those authentic and personal moments with his dog and co-cinematographer Joey. –JES