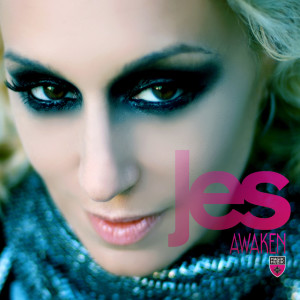 As JES embarks on an explosive new year, the artist releases "Awaken," the third single from her album, High Glow, which entered the Billboard Electronic Albums Chart in 2010. The video for the guitar driven and rhythmic life-affirming song was directed partially underwater and across desert landscapes disappearing into vibrant blue skies at Anza-Borrego State Park in California. The single "Awaken," released by Black Hole Recordings & Ultra Records USA, and video will premiere worldwide on Jan. 31, 2011. The tight underground remix package will include Inpetto, Thomas Gold, Ronski Speed, Coco Channel, Ron Reeser, and  Dan Saenz.
ITUNES Link: http://itunes.apple.com/us/album/awaken-part-2/id416243409
"Awaken" follows JES' recent hit singles "Imagination," "Lovesong" and "Closer." "Lovesong," rapidly grabbed mainstream success with the #1 spot on Clear Channel's iHeart Radio NEW Discover and Uncover Hit Chart for 15 weeks straight and the 'rocktronica' styled video was featured on MTV's Logo NewNowNext Poplab in May. JES is also being recognized for her artistry in the music industry with her participation, including lyrics and vocals, on BT's album, These Hopeful Machines. BT's album, featuring work by JES is currently nominated for a GRAMMY Award. Her haunting collaboration with BT on the song "Every Other Way," reached international cult status with a stellar remix from the worlds  #1 DJ Armin Van Buuren.
JES continues to reach fans with breathtaking shows headlining arenas and clubs from her native US to Egypt and China for global brands such as: Gatecrasher, Godskitchen and Ministry of Sound.
With a feature in the recent issue of Elle magazine, her music in ELLE's web series "Dirty Little Secret" and completing the famed Honolulu Marathon, helping to raise more than $600,000 with her team for the L.A. based charity APLA, JES is bringing her music to an even wider pop-culture audience.  This year she will continue to break boundaries as she plays live DJ set shows and begins touring with the JES Band.
Awaken Video Credits:
Record Label: Black Hole Recordings
Production House: Planetjes Inc & In Ohm Entertainment
Post House: Argyle Post & WOW Factory
Executive Producer: Arny Bink & Tom Fritze
Director: Katheryne KTEE Thomas & JES
Producer- Katheryne KTEE Thomas
Director of Photography: Irfan Merchant
Additional Underwater Camera: Katheryne KTEE Thomas
Additional Desert Camera: Katheryne KTEE Thomas & Jane Lawalata
Line Producer: Kris Pyland
Associate Producer: Jane Lawalata
Art Direction/Styling: Kendrick Osorio
Desert Makeup: Roshar Sandage
Desert Hair: Tony Vin
Water Makeup/Hair: Amanda Thomas
Styling/Wardrobe Assistant: Jeremy Waters
Editor/VFX: John Young
Additional Editing: Katheryne KTEE Thomas
Gaffer: PJ Severtson
Grip: Matt Burkee
PA: Ronnie Nasino