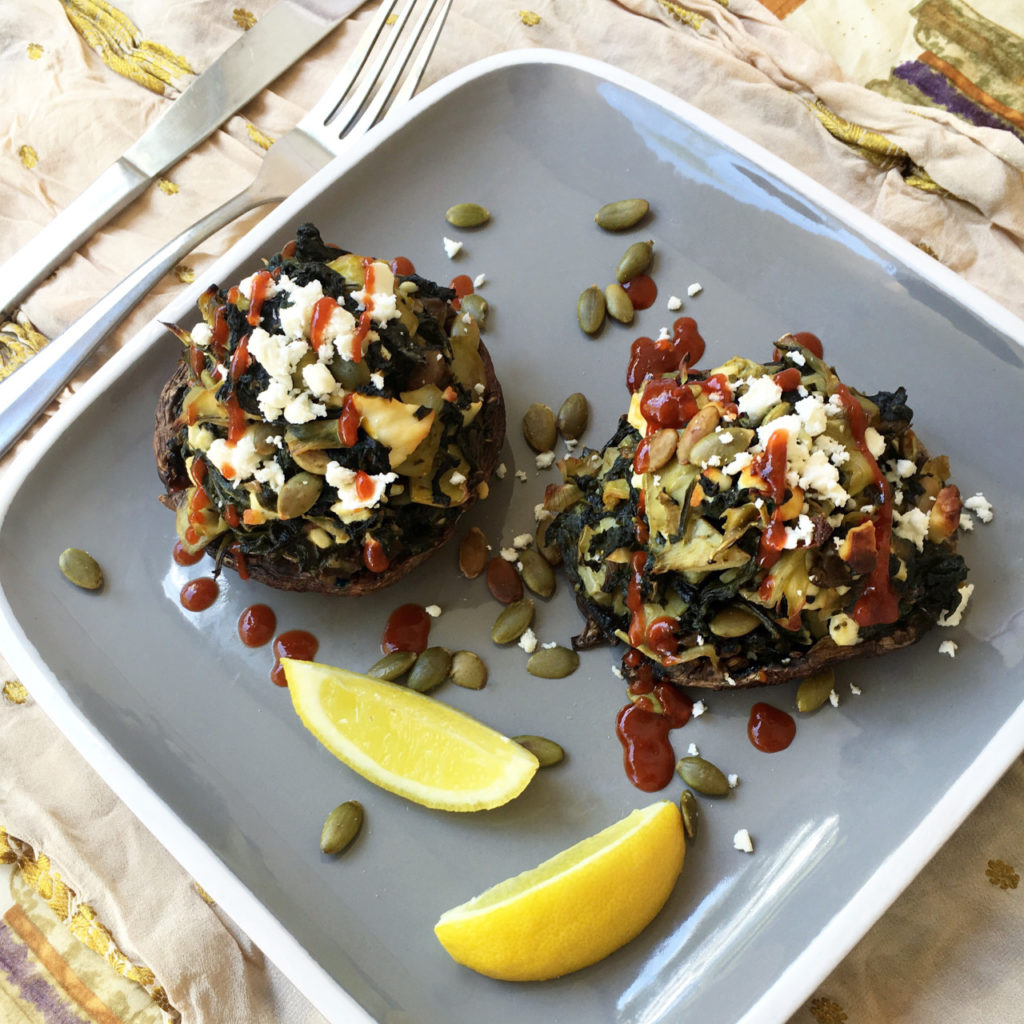 STUFFED PORTOBELLO MUSHROOMS WITH SPINACH, ARTICHOKES, FETA AND PEPITAS
STUFFED PORTOBELLO MUSHROOMS WITH SPINACH, ARTICHOKES, FETA AND PEPITAS
Portobello mushrooms are a fantastic vehicle for holding together all kinds of tasty ingredients. I love to fill mine with this healthier take on a spinach artichoke dip! The creamy feta and salty pepitas are the perfect added pop of flavor to this dish.
Ingredients:
-2 large portobello mushrooms
-1 tbsp light olive oil
-1 tbsp chopped shallot
-3 cups chopped fresh spinach
-6oz jar artichoke hearts, drained & chopped
-1 tbsp white wine
-1 tbsp pepitas/pumpkin seeds
-3 tbsp crumbled feta
-½ tsp Italian herb seasoning
-1/8 tsp garlic salt
-Lemon slices
-Sriracha to taste
Instructions:
1) Preheat oven to 375 F.
2) In a skillet over medium heat sauté shallots with olive oil until lightly browned. Add in white wine, artichokes, pepitas and season with garlic salt and Italian herb.
3) Add spinach to skillet and stir until soft and wilted. Transfer entire mixture to a bowl and toss with feta cheese.
4) Prepare portobellos by scooping out the inside of the mushroom caps. Place mushrooms on a lined baking sheet cap down and brush lightly with olive oil. Bake for 10 -15 minutes.
5) Remove the mushrooms and turn over. Fill each mushroom cap with the spinach mixture piled high. Bake for another 15 minutes. Serve warm sprinkled with more feta, lemon slices, and Sriracha to taste.
Enjoy!