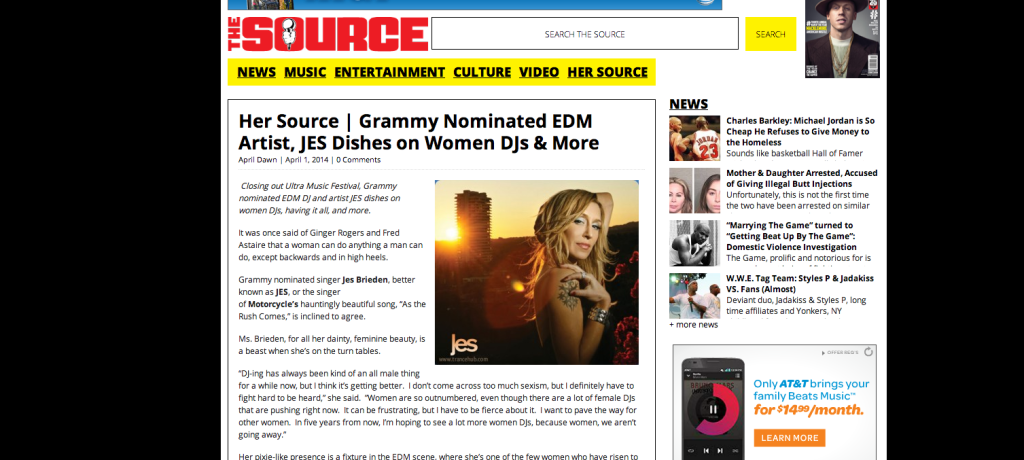 The Source: Her Source | Grammy Nominated EDM Artist, JES Dishes on Women DJs & More
Closing out Ultra Music Festival, Grammy nominated EDM DJ and artist JES dishes on women DJs, having it all, and more.
It was once said of Ginger Rogers and Fred Astaire that a woman can do anything a man can do, except backwards and in high heels.
Grammy nominated singer Jes Brieden, better known as JES, or the singer of Motorcycle's hauntingly beautiful song, "As the Rush Comes," is inclined to agree.
Ms. Brieden, for all her dainty, feminine beauty, is a beast when she's on the turn tables.
"DJ-ing has always been kind of an all male thing for a while now, but I think it's getting better.  I don't come across too much sexism, but I definitely have to fight hard to be heard," she said.  "Women are so outnumbered, even though there are a lot of female DJs that are pushing right now.  It can be frustrating, but I have to be fierce about it.  I want to pave the way for other women.  In five years from now, I'm hoping to see a lot more women DJs, because women, we aren't going away."