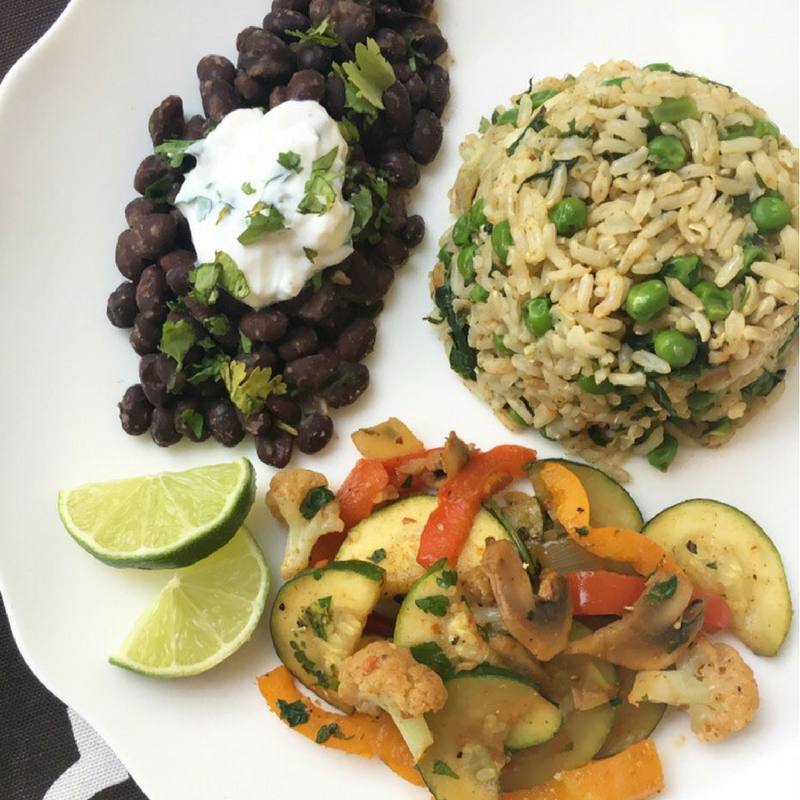 HOLIDAY RECOVERY MEAL
One of the best things about the holidays is over indulging in your favorite guilty pleasure foods. But afterwards you are often left feeling bloated, sluggish, and in need of some serious detoxing. Enter my favorite vegetarian Holiday Recovery Meal. Full of protein, vitamins, good fats, and antioxidants, you will be left feeling satisfied and energized! Each element of this dish is fantastic on its own or served all together.

Mexican Spiced Vegetables
Ingredients:
2 tbsp coconut oil
1 large zucchini, quartered and sliced
¼ head of cauliflower florets, chopped
1 red pepper, cut length wise
1 orange pepper, cut length wise
½ small onion, chopped
1 cup mushrooms, sliced
½ cup Cilantro chopped
2 tbsp organic taco seasoning
sea salt & pepper to taste
Instructions:
1) Heat oil over medium heat in a large sauté pan.
2) Add onions and cook until soft. Next, add cauliflower, zucchini, and peppers then continue to cook for another 3 min.
3) In a small bowl mix the taco seasoning with a few tablespoons water to make it dissolve into a liquid mixture and add into the cooking vegetables.
4) Add in the mushrooms and cook another 2 min. Serve hot.
The Best Black Beans
Ingredients:
1 can black beans, drained
1 tsp olive oil
2 tbsp chopped red onion
1 clove garlic, mined
½ tsp ground cumin
2 tbsp vegetable broth
sea salt & pepper to taste
lime juice
fresh cilantro
chipotle pepper*
Instructions:
1) In a saucepan heat the olive oil, red onion, garlic, and cumin for 3 min.
2) Next, add black beans and vegetable broth and let simmer for 10 minutes. Add in 1 chopped chipolte pepper if you'd like to add some spice.
3) Season to taste with lime juice, salt and pepper. Transfer to bowl. Sprinkle with cilantro, lime juice and serve with non-fat sour cream.

* I like things spicy so if you do too add a chipotle pepper. They come in a can and they add so much flavor, just add 1 chopped up pepper.
Fill Me Up Brown Rice with Spinach and Sweet Peas
Ingredients:
1 tsp light olive oil
2 cups cooked brown rice
frozen organic spinach
1 shallot mined
a few pinches coriander powder
frozen organic peas
Instructions:
1) Defrost the spinach and peas slightly.
2) Heat the oil in a large skillet over medium-high heat. Add garlic and shallot and cook until the shallot begins to brown.
3) Add the spinach then stir in the peas and cook for 2 minutes longer.
4) Add in the coriander, salt & pepper, and cooked brown rice and cook for 3 more mins. Serve hot.