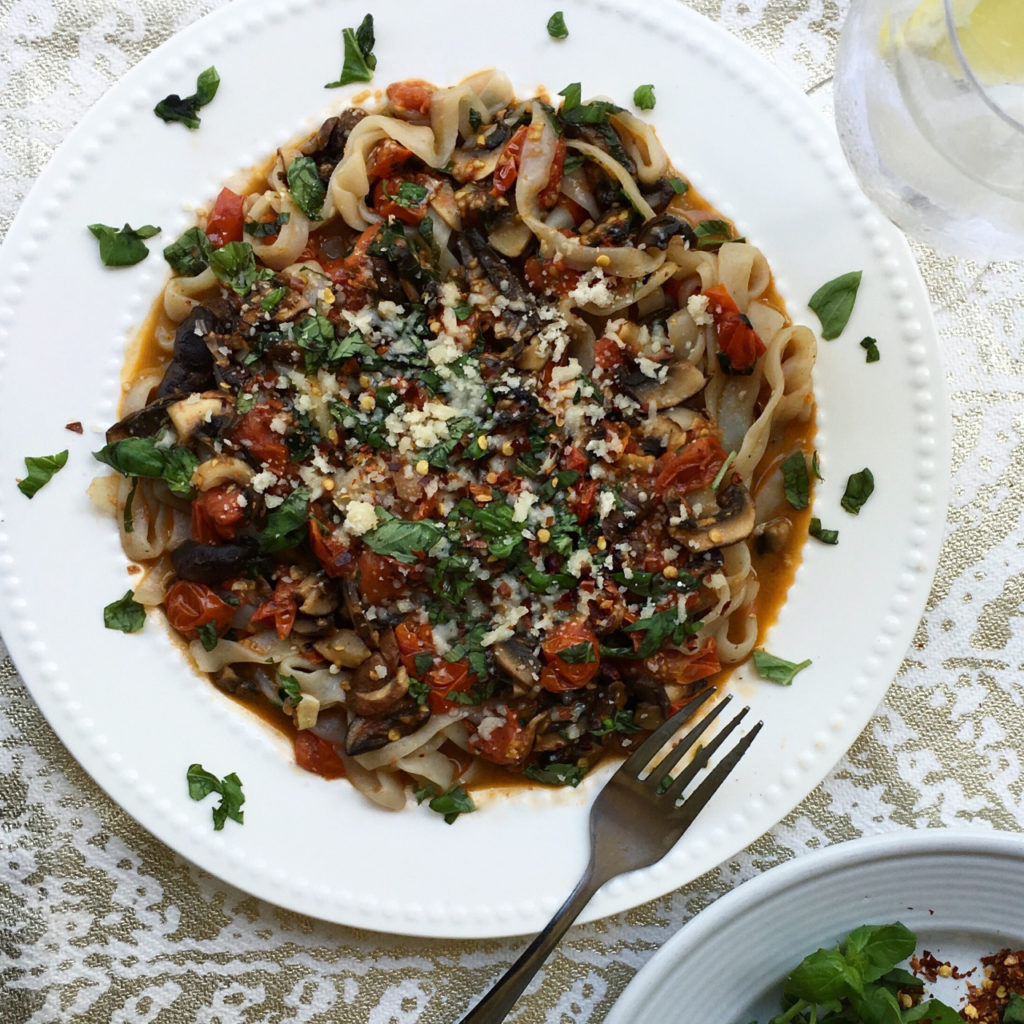 NO GUILT BLISTERED TOMATO, BASIL & MUSHROOM PASTA
NO GUILT BLISTERED TOMATO, BASIL & MUSHROOM PASTA
Sometimes you just can't help craving a big soul satisfy bowl of pasta.There is something so comforting about slurping back thick noodles covered in aromatic red sauce that immediately brings back carefree moments of childhood. My No Guilt Blistered Tomato, Basil & Mushroom Pasta fills all the pasta voids without the feelings of carb regret afterwards!
Ingredients:
-2 tablespoons light olive oil
-1 tablespoon shallot
-1 teaspoon chopped garlic
-½ teaspoon red chili flake
-1 teaspoon Italian seasoning salt
-1 pack small baby cherry tomatoes, halved
-1 package baby portobello mushrooms
-3 Tablespoons fresh parmesan cheese, grated
-1 large handful fresh chiffonade of basil
-1 package Miracle Noodles or Pasta Zero Shirataki Fettuccine Noodles
-Salt & Pepper to taste
Instructions:
1) Over medium heat sweat the olive oil, shallots, and chopped garlic in a large skillet. Add in baby tomatoes and cook until soft, about 5 min.
2) Add the sliced mushrooms and Italian seasoning. Cook 3 more min.
3) Prepare the Shirataki Noodles according to directions. Add the noodles into skillet and toss.
4) Add 2 tablespoons of the basil, grated parmesan, and chili flakes plus salt and pepper to taste. Make sure to coat the noodles entirely in the sauce and transfer to plates.
5) Serve with remaining grated parmesan and fresh basil on top.
Now enjoy this amazing GF pasta without the added fat, carbs, and calories but with all the
flavor #therockstartdiet