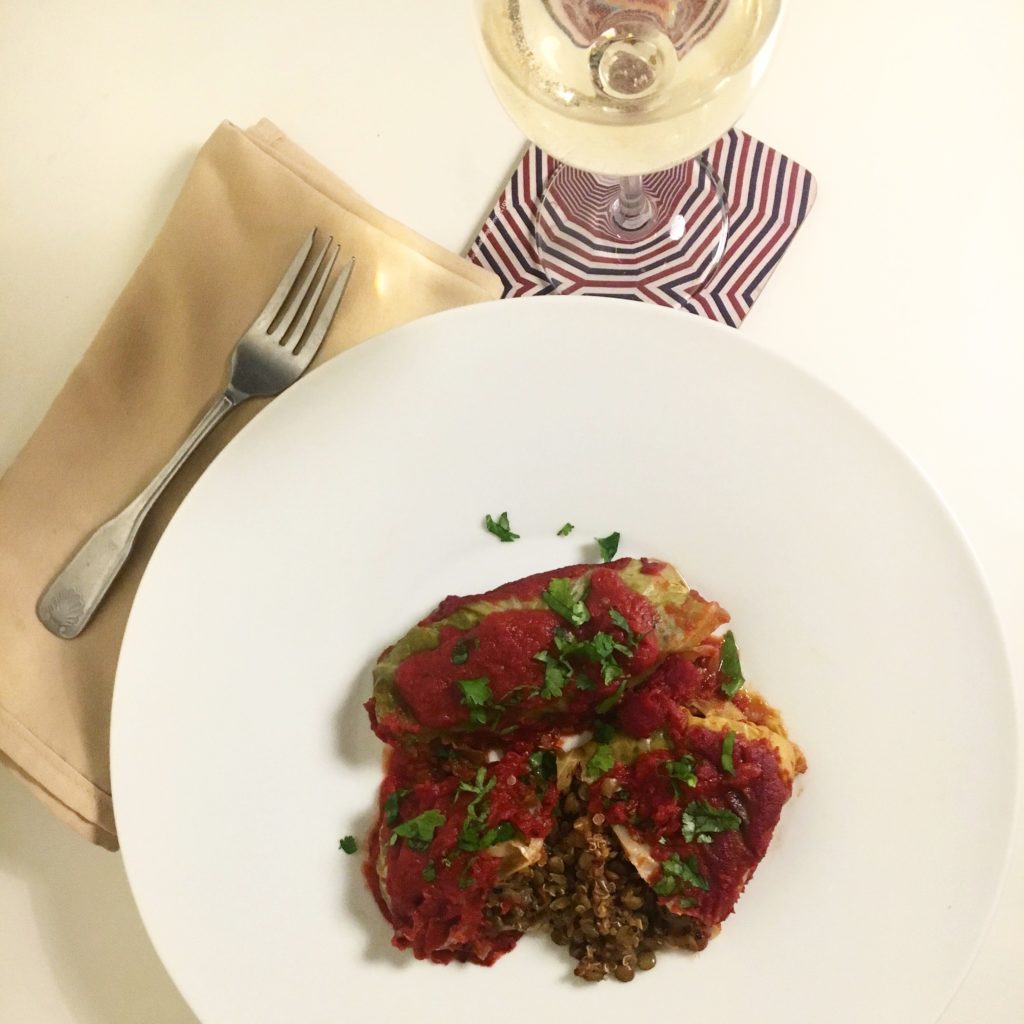 VEGETARIAN STUFFED CABBAGE
VEGETARIAN STUFFED CABBAGE
Perfect for having good friends over for dinner, my Vegetarian Stuffed Cabbage has 5-star restaurant taste made easily at home. Bon appétit!
Ingredients:
-1 head cabbage
-1 cup brown lentils
-1 cup vegetable Broth
-3 cups filtered water
-1 cup cooked red quinoa
-1 teaspoon smoked paprika
-1 tablespoon coconut oil
-1 small onion, finely diced
-1 tablespoon cider vinegar
-1/8 cup light olive oil
-1 clove garlic, finely diced
-1 can organic stewed tomatoes
-1 teaspoon red wine vinegar
-2 tablespoons tomato paste
-½ teaspoon dried oregano
-Salt and pepper to taste
Instructions:
1) To make tomato sauce, sauté half the diced onion and garlic in olive oil. When onions are soft add oregano, red wine vinegar, canned stewed tomatoes, and tomato paste. Add salt and pepper to taste and simmer for 15 minutes. Set aside.
2) Bring vegetable broth and 1 cup of water to a boil. Add brown lentils and simmer until cooked 30 min until soft but firm. Set aside.
3) Bring 2 cups water to a boil with quinoa. Simmer until tender and sprouted about 20 minutes. Set aside.
4) In a sauté pan heat the coconut oil and sauté the other half of diced onion until soft. Add in the cooked lentils, cooked quinoa and sauté for 2 minutes. Next, add the cider vinegar, smoked paprika, and salt and pepper to taste. Set aside and allow to cool.
5) Place the head of cabbage in a large pot and fill half way with water. Add ½ teaspoon Himalayan salt and bring to a boil. Then, lower the heat and let the cabbage cook about 15 minutes, turning the cabbage every so often. Next, remove the cabbage from the pot and cool till the leaves become soft. Cut the bottom of the cabbage head where the stalk is thicker, remove the leaves one by one, place on a plate, and get ready to roll!
6) Preheat oven to 350 degrees. Cover the bottom of a glass baking dish with a nice layer of tomato sauce.
7) Place a cabbage leaf on a cutting board and fill the middle with about 3 tablespoons of the lentil and quinoa mixture. Fold in the sides of the leaf and roll from the front to back. Repeat with as many rolls as you can fit into your baking dish. When finished rolling add the remaining tomato sauce on top of the cabbage and bake for 35 minutes.
8) Remove and enjoy with a nice glass of Beaujolais 😉