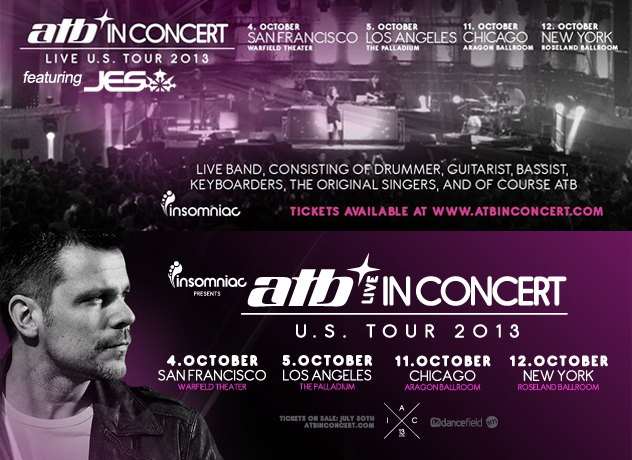 JES Joins ATB Live In Concert Tour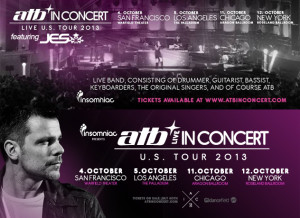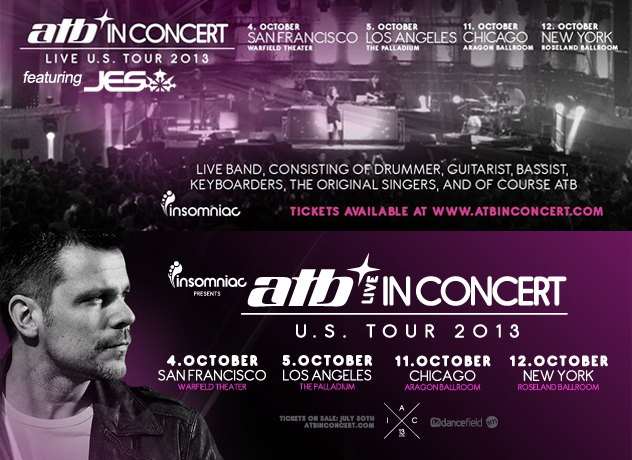 Renowned DJ and producer ATB has announced his partnership with Insomniac Events for the four date ATB Live In Concert Tour. For two weekends in October, audiences in San Francisco, LA, Chicago and New York will witness a unique EDM concert experience featuring a live band with a drummer, guitarist, bassist, and keyboard player. To top it off, several featured vocalists from ATB's best hits will perform live during the show. None more beloved and well-known in the dance music scene than JES, the US-based songwriter, singer and DJ will join him on all four dates where she will debut two new ATB collaborations from his upcoming album Contact.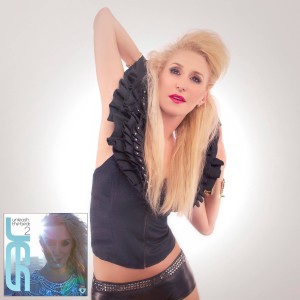 As one of the industry's most established artists, JES has remained at the forefront of the EDM revolution through her resonating lyrics, vivacious live performances and thoughtfully assembled mixes. Her weekly radio show, "Unleash The Beat," was launched in 2012 and has enjoyed runaway success syndicating worldwide on over 60 stations. She has written and provided vocals for nearly every top name in the industry, including Tiesto, Armin van Buuren, Paul Oakenfold, Above & Beyond, Kaskade, BT, Richard Durand, Cosmic Gate and Roger Shah.
After three artist albums–Disconnect (April, 2007), Into The Dawn – The Hits Disconnected (January, 2008) and High Glow (March, 2010)–and touring throughout 6 continents and countless countries, JES added DJing to her live show, often singing along to her tracks as she mixes. The second volume of her compilation series Unleash The Beat was released in August and is another shining example of the devotion to dance music that JES has held from the beginning of her career and continues to bring to fans around the globe today.
Don't miss this unique chance to catch JES live in concert with ATB! Tickets are available now at www.atbinconcert.com.
4th October // San Francisco // Warfield Theatre
5th October // Los Angeles // The Palladium
11th October // Chicago // Aragon Ballroom
12th October // New York // Roseland Ballroom
CONNECT WITH JES:
Website: www.planetjes.com
Facebook: facebook.com/jespage
Twitter: @official_jes
Radio: www.unleashthebeat.com