QUEEN OF ROCKTRONICA, JES RELEASES "CLOSER" SINGLE AND VIDEO FROM CHART TOPPING ALBUM HIGH GLOW.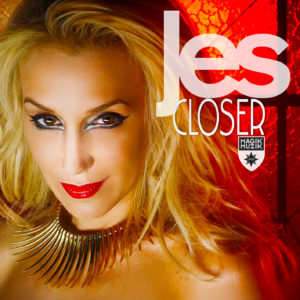 JES is an artist who fully inhabits her music, building on the passion of all her previous works that stir deep emotions. As each song soars, she creates a palpable connection with her audience, whether it's between the ears on an iPod, acoustically in a small venue, or by tens of thousands in an arena. Her newest single, "Closer," from HIGH GLOW pulls from the pop genre with the roots of the song deep in Rocktronica.
"Closer" is a journey into an unforgettable sonic photograph – fusing pop, futuristic electro-dance rhythms and riffs with JES' uniquely touching vocal performance. The new single brings all fans one-step "Closer" together as the song features a universal allure. The new single will be available worldwide including online at iTunes, Amazon.com, UltraRecords.com, BlackHolerecordings.com, and select retail outlets worldwide.
The brand new track exhibits strong mainstream crossover appeal and has already created a swarm of remixes. "Closer" features a stellar supporting lineup with many of the hottest remix talent policing the beats. Bimbo Jones takes the floor on a dreamy electro-house journey to the heart of JES' ethereal vocals, as the Coco Channel's Klub Edit grooves its way through "Closer" with plenty of breathy JES vocal treatment.
CLICK HERE TO PURCHASE CLOSER EP ON ITUNES
CLICK HERE FOR JES MUSIC ON AMAZON
Jim Jacobsen pares down "Closer" to an introspective, minimal sound with soul-tingling touches of dub and Twisted Disko takes a sassy midnight trip through "Closer" morphing vocals and melody into a sonic Picasso. Josh Harris' lush remix is a harmonic summer sunset laced with danceable builds & breaks. Newcomers, Marc Lime & K Bastian's synthy affair evokes a swanky eighties dance floor with its fierce melody. Loverush UK!'s production and JES' vocals combine in a rare and passionate embrace that you don't ever want to end, while Kris O'Neil's remix is the deepest and bassists of the bunch with flashy drums and huge vocal drops.
JES' video for "Closer" is rich with all the vibrancy that's expected of JES. From her structured outfits to her colorful makeup and signature crystal-like eyepiece, everything about her here is extravagant. At the same time, none of this takes away from what is a killer performance video. The clip starts off with JES and her backup dancers holding long rods of light that are used to illuminate the tight choreography that ensues throughout the video. "Closer" offers a great visual of lighting, mirror and camera tricks as you see JES in different perspectives. In one frame, you even see JES at her most intimate where her makeup is bare and her hair is let down. Her presence demands attention like no other, and amidst all of the dancing and different lighting, you'll feel like you're in a club yourself alongside by JES. Produced by Katheryne KTEE Thomas and directed by Ian Lyman and JES, this video's message is as deep and touching as JES' voice itself.